Big games bring the best out of Pollard - Mumbai Indians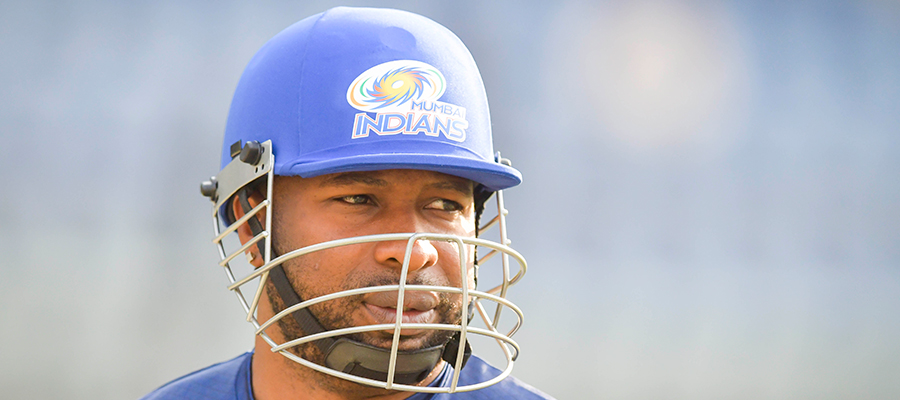 Kieron Pollard is a big-match player. No wonder, then, he's looking forward to Tuesday's marquee clash against Royal Challengers Bangalore at the Wankhede. At the pre-match press conference on Monday evening, the Mumbai Indians all-rounder acknowledged the star power in the opposition camp before saying that it's contests like these that get the best out of him.
"I'm always hungry to perform. Any individual puts a pride on his performance. For me, the things that keep me going against these teams are the players in the opposition. Big players (in the opposition) means big games. And there are times when you step up and be counted. I wish I could tell what is going to happen tomorrow, then I'll be sitting with a broader smile on my face. But we still have to go through the processes as players. You have to go and practise hard and think about your position. Think about what they're going to do against you. And hopefully tomorrow is a successful day, not only for the team but for myself as well," said the West Indian who has scored 2,371 runs and picked up 56 wickets in his 126-match career for us in the tournament..
The most capped player in Twenty20 history (416 appearances), Pollard rued the team's inability to close out the first three games, but he also made it amply clear that the boys are striving hard to stage a turnaround. "I don't think we're done right now. If we are done, then we should be at home. I think we had conversations about it. We had talks at different levels on what we need to do to go forward and finish those games. So the guys are looking forward to it. We had practice sessions. Tonight (Monday) is our last practice before the big game tomorrow (Tuesday)," he said.
Pollard, who has been with MI since the 2010 season, pointed out that in two of the three games, we were just a wicket away from victory. "We only had to take one more. That's where we can improve: by getting 10 wickets to win the match. It's just about trying to be consistent especially at the back end of the innings. I know 190 is easy to defend on any other ground, but these things happen. You know we lost three games in the last over, so I don't know if we have any ideas to get over that line. You guys also know a lot about cricket, so do you have any idea what to do?" he said.
Talking about fellow Trinidadian Evin Lewis, Pollard said he wants to see the left-handed opener bat longer and longer. "He just played international cricket recently. The Vivo IPL is the biggest Twenty20 tournament in the world. The expectations are high. There is no room for failure. But, at the end of the day, you still have to come out and enjoy yourself and the experience. So, we haven't been speaking about it too much obviously. It's just a matter of time. You can see he's getting into the groove. He has got a couple of scores under his belt. We're hoping that he can bat longer and longer and get a big score for himself and for the team as well," he said.
Asked why Krunal Pandya didn't bowl his quota of overs in any of the three games, Pollard said, "No, there isn't any specific reason. Honestly, the leader makes the decision of who bowls when, and obviously he didn't bowl much in the first match. These things happen in cricket. It's easy to say this bowler should've bowled and this bowler shouldn't have. But, again, I can understand where you're coming from. Krunal has been a valuable part of MI as a bowler. You are surely going to see more of him in the rest of the tournament. I guess zero, one, two, three, hopefully, he'll bowl four tomorrow (Tuesday)."
Source: