Win two games and we qualify: Tare - Mumbai Indians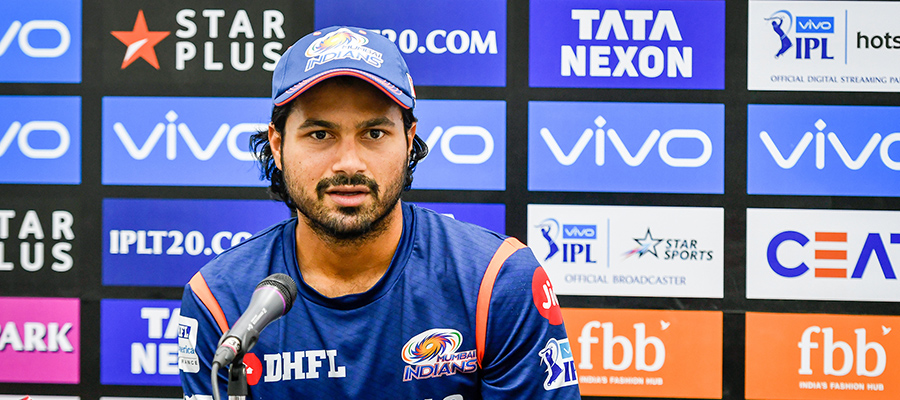 We haven't, sort of, clicked together as a team in every game.I believe that whatever I have achieved in my career, the MI franchise has played a massive role in grooming me.
Back-up wicketkeeper Aditya Tare said on Tuesday said that the team was upbeat ahead of the must-win clash against Kings XI Punjab at Wankhede Stadium on Wednesday.
"If we win two we will make it. We have been in this situation before. That's what the thinking is. We haven't been up to the mark at the Wankhede. This year, unfortunately, we haven't been that strong at home. The mood is pretty good. The picture is quite clear: you win two games and you qualify," Tare said at the pre-match press conference.
Tare, who also captains the mighty Mumbai team on the domestic circuit, refused to blame the batting unit for Mumbai Indians' woes. "The results haven't gone our way. You just can't blame the batters. We haven't, sort of, clicked together as a team in every game. In the games that we clicked as a team, we ended up winning. You can't just blame the batsmen, you know. Some of the games that we lost, we could have defended certain totals but we didn't. When you lose, it's important that you share that responsibility just as you share the responsibility when you win. I don't think there is any such thinking that our batsmen aren't up to the mark. We all have to share the responsibility," he said.
Lavishing praise on Ishan Kishan, MI's first-choice wicketkeeper this season, Tare said, "He is pretty young. He is just 19-20 years old. The talent that he has is enormous and that's the reason why MI have backed him as the first-choice wicketkeeper. It's just the star in his career. It's a great opportunity for him. A few days ago, he won us a match. It shows the amount of ability he has with the bat. The experience of playing all games for MI will help him."
Asked how he dealt with the frustration of having to sit out game after game, Tare said, "It is not a great thing to be sitting out on the bench. This is my ninth year in the VIVO IPL. I know how to deal with it. Some things you just can't control and you have to deal with it. The VIVO IPL is not the end of everything. I am still a first-class captain. There are lots of positives to look forward to. That's the sort of thinking I do. It's not the end of the road. It's a franchise that has helped me. I believe that whatever I have achieved in my career, the MI franchise has played a massive role in grooming me. Whenever my time comes, I will give back to the franchise."
Source: