Pankaj: I wrestled for two years when I was 14 - Mumbai Indians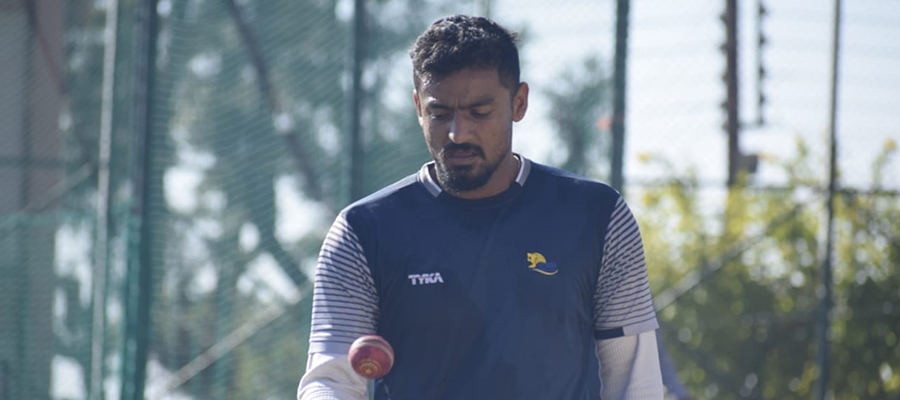 Then they asked me if I wanted to play cricket, and I said I wanted to.And then I got a phone from my family telling me that Mumbai Indians bought me.
"Since Mumbai Indians have believed in me, I want to repay their faith. When I get a game, I will try to rise to the occasion. MI have already won 3 trophies, and I want them to lift it for the fourth time in 2019. I will try my best."
Pankaj Jaswal was over the moon when he got to know that he will finally be a part of the coveted Indian Premier League next year.
He is a brawny, muscular and a well-built fast-bowler who just wants to clock high speeds. And he does so with success. Pankaj is also a very able hitter of the cricketing ball.
Last year in October, he recorded the second-fastest fifty in the history of the Ranji Trophy -- getting to the mark in just 16 balls.
In an exclusive interview with mumbaiindians.com, Pankaj told us about his first reaction after being bought by MI, who he admires and more.
We asked him where he was when his name popped up during the auction.
"I was out. I was getting back home from a Ranji Trophy match where we had defeated Andhra outright."
"My name is there in the auction every season, but no one picks me up, so I didn't want to jinx it by expecting. And then I got a phone from my family telling me that Mumbai Indians bought me."
He added, "Initially, I couldn't believe it. I thought it was a joke. So, I streamed the auction on my phone to double check. I was amazed, happy and a lot more."
With 10 scalps to his name, the 23-year-old finished as Himachal Pradesh's leading wicket-taker in the 2018 Vijay Hazare Trophy.
"I had been to KKR and Mumbai Indians. I felt like I could make it this season because my trial at the Mumbai Indians went well. I was bowling well. Zaheer paaji gave me some tips about bowling and it benefitted me a lot."
But did he expect MI to bid for him?
"I had been twice to the Mumbai Indians trials. There were a limited number of bowlers called up so I thought I did my best there."
Talking about how 2018 has helped him grow as a cricketer professionally, Pankaj said, "This year was better than last year in terms of my personal performances. I have done well in the Vijay Hazare Trophy. Even in the Ranji Trophy, I already had a couple of five-wicket hauls from my first five-games."
"I have assimilated all my focus on the Ranji Trophy and I want to see my team win the competition. If God's willing, it will be great."
For someone so passionate about his state side, cricket was not the only sport that he took up. Being a part of a multi-sport family saw him wrestle too.
"I wrestled for two years from the age of fourteen to fifteen. My family is full of wrestlers so I was naturally inclined towards that sport. However, I used to play cricket instead of wrestling."
He also revealed a very interesting story from his childhood.
"The big boys used to come home and I was generally the small one. They used to convince my mother so she could send me to play."
"My mother ended up asking them once as to why they wanted to play with someone who was younger to them.'
"The boys always said that she hadn't seen me play and I was great. They told her that I was a good hitter and a fast bowler."
"On one occasion - my mother, father and uncle hid behind the ground and saw me play. Then they asked me if I wanted to play cricket, and I said I wanted to. Since then, I joined the academy, got drafted in the state and that's how the journey has been so far."
Pankaj also said that he admired Kapil Dev, India's greatest all-rounder but it was the Rawalpindi express that inspired him to bowl quick.
"I admire Kapil paaji but I have a fascination with bowling fast, so I respect Shoaib Akhtar. I read his autobiography whenever I'm idle and I watch his videos before going to sleep. That makes me play with more aggression."
Pankaj will also get an opportunity to prosper under the tutelage of India's most successful pacer, Zaheer Khan. We naturally asked him if he was excited.
"I am looking forward to it, Zaheer has been a legendary Indian bowler. I always used to think if I will ever have an opportunity to meet him."
"I have always wanted to learn from him and I'm happy that he is at Mumbai Indians. I am eager to train under him," he signed off.
Source: