Oz, India ready to rumble in Boxing Day Test - Mumbai Indians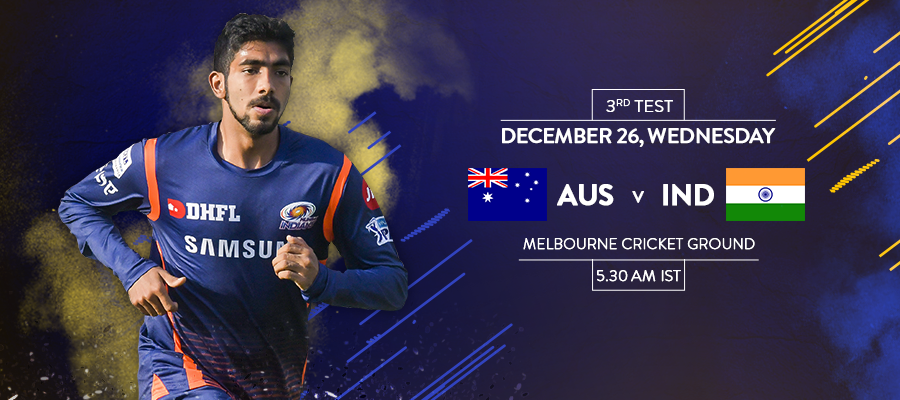 Ishant Sharma also is in form which makes India's pace battery look lethal.From the Australian dressing room:Australia have made a solitary change.
The Christmas spirit has settled in. It is game time, again down under. With the series squared, everyone is looking forward to the Boxing Day Test at the iconic Melbourne Cricket Ground on Wednesday.
While India have made three big changes, Australia have announced a solitary change from their winning combination that yielded them a winner in Perth.
From the Indian dressing room:
India have made three massive changes. Murali Vijay and KL Rahul have been shown the door while Umesh Yadav, too has been axed after failing to impress in the second Test.
Mayank Agarwal is all set to make his debut while Rohit Sharma returns after missing out due to an injury. Ravindra Jadeja will be the lone specialist spinner after Ravichandran Ashwin failed to clear the fitness Test.
India's opening combination is expected to be a mix of someone who is willing to cement his place after two decent outings and the one who has been scoring heaps of runs in the domestic circuit.
When India's 19-man squad was named, no one would have thought that Mayank Agarwal and Hanuma Vihari will open the batting in the last yet the biggest Test of the year. While the selectors have been bold in moving on from openers who have failed to deliver in overseas conditions, this well could be a blessing in disguise for the duo who will play under some pressure.
Cheteshwar Pujara and Virat Kohli form the backbone of the Indian team. The duo will lead India's charge with the bat having form on their side. Mumbai boys Ajinkya Rahane and Rohit Sharma take up the crucial number five and number six spots.
Rahane roaring back to form is always a good sight. Rohit Sharma, whose Test career has always been questioned, has a big opportunity coming his way.
The Hitman has got form on his side in white-ball cricket and just needs one good outing against the red ball to prove his mettle.
Rishabh Pant has a lot to prove too. He has been chirpy behind the stumps but the young left-handed wicket-keeper batsman will want to put a price on his wicket and do justice to the abilities that he has.
India's long tail will get a break with an extra batting cushion in Ravindra Jadeja. Jadeja's larger role will be to replicate what Nathan Lyon has been doing with the ball.
While Jasprit Bumrah has been India's most threatening bowler, Mohammad Shami produced the goods in the third innings at Perth to stake his claim. Ishant Sharma also is in form which makes India's pace battery look lethal.
From the Australian dressing room:
Australia have made a solitary change. Mitchell Marsh returns to the side at the expense of Peter Handscomb. Mitch also serves as a bowling option for his skipper who wants to ease the workload of his pacers.
For the first time in 45 years, the MCG will have two Victorian openers in Aaron Finch and Marcus Harris. The home-support will add to their confidence when they walkout in front of a vociferous Melbourne crowd.
Usman Khawaja and Shaun Marsh will again have to shoulder the middle order while Travis Head, who has looked in good touch, will want to get to three figures where it matters the most.
Australia have firepower coming their way with Mitch Marsh slotted in but what they will take confidence from, is how Tim Paine faired in Perth.
Pat Cummins has been a hard nut to crack. He doesn't throw his wicket away and has frustrated India in the past. He has been doing a fair job with the ball to trouble the Indian men even though all eyes have been on Mitchell Starc.
Josh Hazlewood has been the pick of bowlers for the Kangaroos and is expected to play a major role on the MCG track. India's biggest worry, however, will be Nathan Lyon. The off-spinner already has 16 wickets to his name which is a cause of concern for Virat Kohli and men.
No need to mention of how big a role the MCG wicket will play in this all-important third encounter. The Boxing Day Test will start at 5.30 AM IST.
Source: