Yuvraj Singh: Yes, I look the best in blue - Mumbai Indians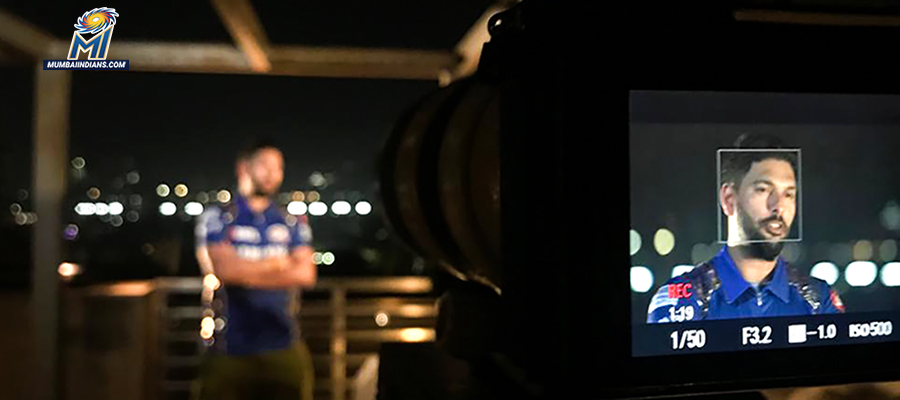 I am really looking forward to playing in front of the Mumbai home crowd and hopefully things go well for us." Your reaction?"Well, you can see I look the best in blue – that's my message but I am really looking forward to it.
"Finally. A jersey I wanted to wear for a very long time."
These were Yuvraj Singh's very first words as soon as we handed him his first Mumbai Indians jersey. He wore it with a broad smile, posed for the camera and got himself ready for his first ever interview with mumbaiindians.com.
Excerpts from the conversation:
Q: Your first thoughts after being picked by Mumbai Indians?
Yuvraj: I was very ecstatic. It's been a couple of years since I have wanted to come and play for the Mumbai Indians. I've been living in Mumbai for about 10 years and I just thought that once when I stop playing for Punjab and if I get an opportunity to play for Mumbai, that will be great. But it has been a while since I've wanted to come here and finally, I have the opportunity. Hopefully, it goes well this year.
Q: What does it feel like to play at the Wankhede -- your new home ground?
Yuvraj: I have definitely got some special memories. The 2011 World Cup victory at the Wankhede was like a dream come true. It was a very special and emotional feeling for us and the whole of India because we wanted to win it for Sachin. It is a very emotional and strong place for any Indian cricketer so I think I'm very excited and ecstatic to play in front of the Mumbai home crowd. As I said, hopefully, it should go well for us."
Q: What kind of a rapport do you share with Rohit? Are you looking forward to playing under his leadership? Yuvraj: Yes, I think Rohit is a terrific captain and he is someone who keeps his nerves pretty calm. You know, I have seen Rohit grow in front of me as a player, a cricketer and as a human. I think he is one of the best examples of a human being I have seen throughout a bunch of cricketers. He is definitely one of the greats in ODIs and a very humble human being. We share a great camaraderie and hopefully it works on the field and you know, just really looking forward to playing under him.
Q: Are you excited to reunite with Zaheer Khan (Director of Cricket Operations) and Sachin Tendulkar (Icon)?
Yuvraj: Absolutely. I have played a lot of cricket with Zaheer and Sachin Tendulkar. We've had some great time together and we share great memories. We have also won some great championships together, so I think the communication is going to be great because we have the same ideas about cricket and hopefully all of us can contribute towards taking Mumbai to the last four and helping Rohit as much as we can.
Q: What are your personal targets for the upcoming season? Yuvraj: Well, see I didn't have a great IPL last year. I am really looking forward to this one. I want to go all guns blazing and I am working really hard towards it, but I wanted to be part of a team where I am welcomed and supported, and I felt that from Mumbai Indians, especially when I was listening to Akash's words. So, I have felt welcomed, supported and I was really looking forward to that. Once you feel that, you know, good performances will surely show up.
Q: How beneficial will it be for the youngsters to have you in the dressing room?
Yuvraj: Well, I am just looking forward to playing with everyone. I think we have a great bunch of young guys. Guys like Barinder Sran and Anmolpreet are very young exciting talents that have come in the squad. I share a great camaraderie with the young guys because I've been through that time when you have that fear of playing with the seniors and when the seniors come and comfort you, you feel you belong to the dressing room. So, I think hopefully we can create a happy environment where you can push the younger guys to do their best.
Q: The fans feel that you look the best in blue. Your reaction?"Well, you can see I look the best in blue – that's my message but I am really looking forward to it. I am really looking forward to playing in front of the Mumbai home crowd and hopefully things go well for us."
Source: