Bumrah powers India to 2-1 lead - Mumbai Indians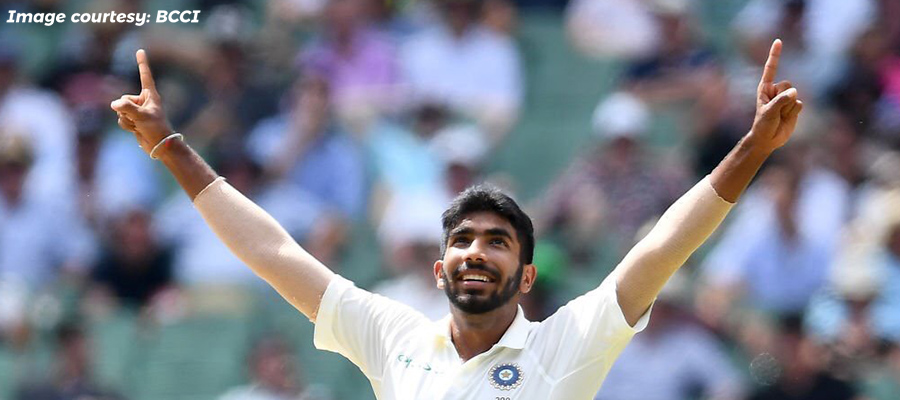 India's two new openers -- Mayank Agarwal and Hanuma Vihari did exceedingly well to see off the new ball.He survived for 67 balls when Jadeja, from around the wicket, got him nicking one to Pant.
Jasprit Bumrah became the first Indian pacer to bag more than 8 wickets in a Test in Australia as India defeated Australia by 137 runs to take a 2-1 lead in the Border-Gavaskar Trophy on Sunday in Melbourne.
Virat Kohli won the toss and chose to bat first on a track which was difficult to crack. India's two new openers -- Mayank Agarwal and Hanuma Vihari did exceedingly well to see off the new ball. Vihari was middling the ball but found fielders in his 66-ball stay. He did well to protect Pujara against the new ball while Agarwal batted aggressively against both pace and spin to put the Aussies under pressure.
But Pat Cummins curtailed his progress and bounced him out for 8. Cheteshwar Pujara and Mayank Agarwal joined forces to frustrate Australia playing time and ensured that India were marching towards a very safe total with the pitch already showing signs of concern.
Agarwal played very fluently for his 76 before Cummins had him caught behind. Virat Kohli and Cheteshwar Pujara toiled hard as India reached 215/2 at the end of the first day.
Pujara reached his century the next morning and Virat Kohli was looking on course for his ton too when a back problem started to trouble him. Starc set him up beautifully to have him ramp a shot straight to Finch at third-man. India lost Pujara too when the ball stayed low to rattle his timber.
Ajinkya Rahane and Rohit Sharma, from there ensured that India made the most of their position. While Rahane fell to a ball that remained low, Rohit continued from the other end after getting a life on 12 when Peter Siddle dropped him.
Rohit was quick to pounce on anything loose and completed his fifty with Rishabh Pant on the other end. He remained unbeaten on 63* as India declared on a mammoth 443/8.
Australia's openers Marcus Harris and Aaron Finch survived six testing overs but fumbled on day three when Finch hit Ishant straight to a well-placed Mayank Agarwal at short mid-wicket. His opening partner, Marcus Harris, after being struck by a bouncer on the previous evening, fell to another well-directed short ball - in a failed attempt to hook it.
Ravindra Jadeja got Usman Khawaja caught at short-leg but what followed next changed the course of the match. The last ball before lunch saw Jasprit Bumrah trap Shaun Marsh plumb with a well-disguised slower-yorker, which he later revealed was suggested by Rohit Sharma standing at mid-off. In the second session on day three, Travis Head was knocked over with a very quick delivery by Bumrah and Jadeja removed Marsh who was caught off a deflection at first-slip.
Pat Cummins and Tim Paine troubled India for a while but runs were not easy to come. Mohammad Shami put an end to their resistance when Cummins was bowled off a delivery which kept low.
Australia were 138/7 when Jasprit Bumrah produced his absolute best. Tim Paine nicked one behind, Nathan Lyon couldn't get out the way of an in-swinging yorker and Josh Hazlewood was castled. Australia bundled out for 151 and Bumrah ended up with his career-best figures of 6/33.
India did not enforce the follow-on with a 292-run lead but Pat Cummins had something different in mind. Vihari and Agarwal added 28 on the board but Cummins bounced him out again.
Tim Paine had very smartly placed a leg-gully forcing Cummins to bowl a little straighter. Cheteshwar Pujara and Virat Kohli got out in a similar fashion to him and Ajinkya Rahane was caught down the leg.
India were suddenly reduced to 32/4 when Rohit and Pant came together. Rohit almost the saw the day through but just at the cusp of stumps, Hazlewood had him caught at first slip, trying to slash outside off.
India began the fourth day on 54/5 with Pant and Mayank Agarwal trying to counter Australia's bowling. Agarwal struck two sixes off Lyon as India swelled their lead but Pat Cummins' twin strikes ensured that India ended with 106/8 on the board before Kohli decided to declare.
Chasing 399 for an improbable victory, Australia lost Aaron Finch to Jasprit Bumrah in the second over. His opening partner Marcus Harris did well to survive a testing spell of fast bowling but once the pace was taken off, his hard hands gave in and he was caught at short-leg off Jadeja.
Khawaja and Marsh came out with intent. They attacked Jadeja by stepping out regularly and batted safely till the end of the first session. Post lunch, Mohammad Shami came with a definite plan. He only wanted to attack the stumps. Kohli rewarded him giving him a leg-gully and the seamer finally had Khawaja missing a straight ball to be given out lbw.
Shaun Marsh, for the second time in this Test, fell lbw to Bumrah who defeated him for pace. Once the ball stopped swinging, it became relatively easy for Mitchell Marsh and Travis Head to stick around.
Head was looking very comfortable against both pace and spin when Ishant Sharma, constantly bowling with the cross-seam, had him chopping onto his own stumps. Marsh, who decided to take the attack to Jadeja, perished in the process when his aerial drive was held by Kohli.
Skipper Tim Paine was welcomed by Rishabh Pant in his own manner but the Australian skipper was ready to face it. He survived for 67 balls when Jadeja, from around the wicket, got him nicking one to Pant.
What followed next frustrated India even more. Pat Cummins, who had settled in, started to play his shots. Cover drives, pulls, a glorious straight drive and Cummins had crossed his fifty-run mark.
Nathan Lyon from the other end, put a price on his wicket and stood tall. India got their extra half-an-hour but Cummins' resolute approach ensured that the game went to the fifth day at the MCG.
Rain kept India at bay on the last day but as soon as play began, Bumrah and Ishant removed Cummins for 63 (his career-best) and Lyon to seal the deal for the visitors.
India have retained the Border-Gavaskar Trophy with the last Test to be played at Sydney from Jan 3 onwards.
Source: