Akash: Fortunate to get Yuvi, Malinga at base price - Mumbai Indians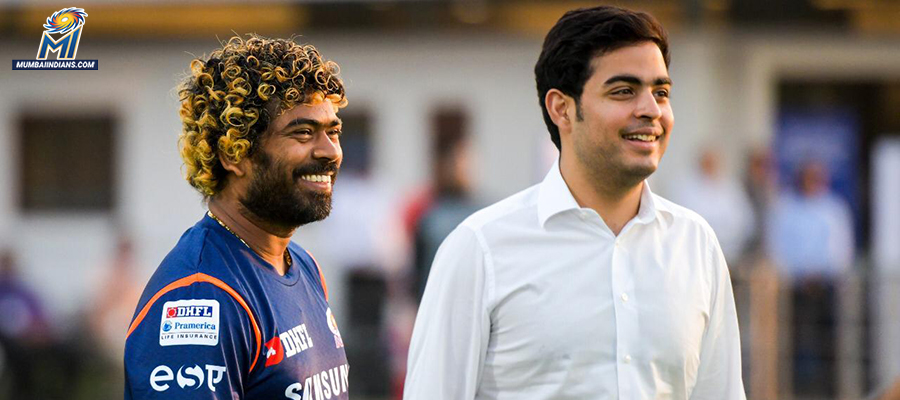 I think we were fortunate to get those two players.We retained a lot of young players that we wanted.
After the highly anticipated VIVO IPL Auction 2019 came to a close on 19th December 2018 in Jaipur, our think tank managed to sign 6 players for the upcoming season. Throughout the day, team owner Akash Ambani was at the centre of the action for us, making vital decisions using the auction paddle and spoke in detail about the signings to Star Sports post the event.
Akash Ambani talked in-depth about our two key takeaways, Lasith Malinga and Yuvraj Singh.
"Yuvi and Malinga are very critical players. I think we were fortunate to get those two players. To be honest, our think tank was thinking on the basis of experience. We retained a lot of young players that we wanted. Entering this auction, we wanted to buy a few young players, but really focused on experience a lot and both fit the bill very well."
He further went on to say that the management had very clear roles for these stalwarts and was happily surprised that we were able to get both for their respective base price.
"I think it's a steal of 12 auctions that Mumbai Indians have had. We had budgeted a lot more for them. We are just really happy that we got them. Both of them have won every trophy there is to win in T20 cricket. Yuvi also has a World Cup to him and Malinga is arguably MI's best foreign player ever. Yuvi has just recently won the IPL with Sunrisers, so we are really happy to add him to our camp."
Apart from these two heavyweights, Akash heaped praised on the other 4 signings - Barinder Sran, Pankaj Jaswal, Rasikh Dar and Anmolpreet Singh – and believed that they had the ability to be in the starting XI for MI.
"These guys are exciting talents whether it's (Barinder) Sran, whether it's Anmolpreet (Singh) or even the Jammu and Kashmir fast bowler - Rasikh Dar that we picked. I think they are really exciting talents, I think they can be players on their own merit, rather than being replacement players for existing starting eleven players."
MI has always churned out players who have gone on to represent India in the future. Be it Jasprit Bumrah or the Pandya brothers, MI has given Team India many talented players and Akash heaped praise on them.
"I think it's as joyous for us as it is for the player when he goes and represents the country. We've just been a fortunate team that has contributed a lot to the Indian team. We are just as happy as the players because once we share joy, then we can call ourselves as a family."
When asked about MI being the slow-starters of the IPL, Akash hoped that this will change in the upcoming season and talked about the additions in the MI support staff.
"Zaheer is now into our coaching staff. I told him, Mahela (Jayawardena), Shane Bond, James Pamment and Robin Singh, who are our coaching unit -- that we need to turn the slow-starts around."
"It will be helpful to know where the venue is so that we can plan our starting eleven and how to start those matches well. We have no intention of losing the first couple of games and then going on a mighty run," he laughed and signed off.
The MI squad for (VIVO) IPL 2019 now has as many as 24 faces and we'll start our quest for the 4th title with a blend of youth and experience in the ranks.
Source: